Naming Giddy Digs
Posted by Giddy Digs on Saturday, January 5, 2019 at 6:07 AM
By Giddy Digs / January 5, 2019
Comment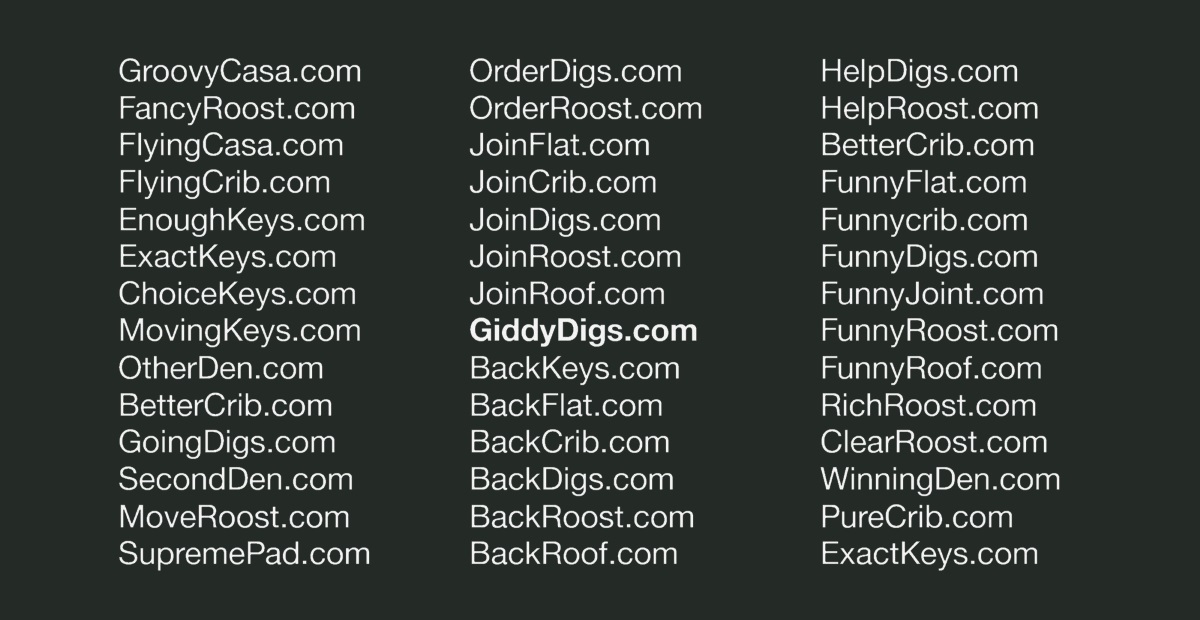 What is in a name? For Giddy Digs the name was everything. In the beginning we had myStG Realty. It was OK. We owned the URL myStG.com. StG is for St George, not to be confused with StD, which unfortunately was the rule... It was also just too local for a national brand. Realzy was our name for about a week. It was, as you can imagine, confused with Sleazy. Not a great connotation for a real estate company. We were struggling. We were running a business that didn't have a name.
That was it! I had to find a name. We knew we wanted something different. A name that would stand out. We didn't want to use the name Realty or Real Estate in our name, as we wanted to be seen as an alternative to a traditional brokerage.
I remembered that I had created a long abandoned program called NameRipple. The basic concept is it takes word lists like popular colors and animals and combines every possible combination of these words, then searches to see if the URL is available. Using this program a person could come up with names like e bay, face book, and star bucks. I started combing though thousands of combinations of positive words and words that could be synonymous with house. I would read them out loud so I could hear what it sounded like. I did this for five days straight.
I turned to the internet searching for a company that could help me find the perfect name. I found a small company in Austria. They came up with a few suggestions and they were not very good. What they did provide us with was an outline on how to evaluate a business name.
These are the three important areas:
Is it unique? As to avoid brand confusion.

Does it invoke a positive response?

Is it memorable?
Armed with this new tool. I went back to reading name combinations for another 5 days.
I was so tired of looking at and reading names. Then there is was! Lorelei had found it in a list of names I had already read. It met all the requirements at level 10. It's very unique, there is only one Giddy Digs. Everyone that says the name smiles and this is the kind of response we were looking for. It's hard to forget a name like Giddy Digs, being somewhat of a palandron "GiD DiG". The word "Digs" is a little lost on millenials. We were okay with a little bit of a hidden meaning.
That is our name story. Love it or hate it we are Giddy Digs.